Long story short,
cullen
made me horribly curious about Skins one night as she freaked out about it all over the place. Not long before Mini, I gave in, watched the second generation since that was what she was on and was sucked in. Freddie became an instant love and his relationship with Effy soon made me love her to an extent, and then I watched season four. Yes. Then I canon vomited and set out to find a way to fix it by way of a psl. The gist of it was Freddie's found hanging on by a thread, goes into a coma and hard times follow - as well as Foster, who Cook thought he killed but no body was found. I tend to write to music and thought I should make a general fanmix for inspiration but when we began writing, the fanmix simply tailored itself specifically to this awesome line. Here is the end result. Apologies for any lyric mishaps, how this may appear in browsers outside of FireFox, and the tragic darkness of the graphic. There's a decent amount of detail there but it wanted to be bleak, apparently. If you're curious about a song, hover over the musical note.
(SO, YOU! You, who I'm writing with and who is most certainly going to read this, suck on this huge compliment aka le grande surprise. Thank you for rockin' and babbling on with me about, oh, everything. ♥)
all of this can be broken
(the love of your life lives but lies no more)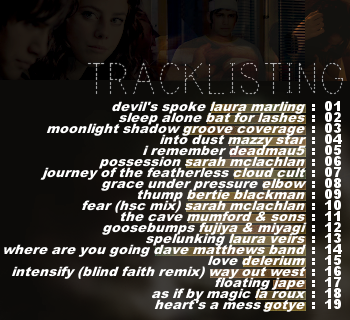 ♫ devil's spoke

by laura marling
T
hat I might be a part of this ripple on water from a lonesome drip; a fallen tree that witnessed me, him alone, him and me; and that life itself could not aspire to have someone be so admired. I threw creation to my kin with a silence broken by a whispered wind.
All of this can be broken, all of this can be broken. Hold your devil by his spoke and spin him to the ground.
And root to root and tip to tip, I look at him, my country drip, leathered up by all his fears, but someone brought you close to tears. Many trains and many miles, brought you to me on this sunny isle and what of which you wish to speak - have you come here to rescue me? All of this can be broken, all of this can be broken. Hold your devil by his spoke and spin him to the ground. But the love of your life lives, but lies no more than where she lay your flower grows. The arms that fed and the babes that wed, the backs that bled keeping her in tow. But I am your keeper and I hold your face away from light.
I am yours till they come.
I am yours till they come.
Eye to eye, nose to nose, ripping off each others clothes in a most peculiar way.
♫ sleep alone

by bat for lashes
Y
ou know, my darling, I can't stand to sleep alone. No sweetheart in the dark to call my own. You're my own, you're my own; I can sing it, I can groan, but the darkness is a stranger and I'm lonely, lonely, lonely, low. Last night's parties and last night's horrorshow, smiling and whirling and kissing all I know. Give my soul, give my soul, sing it free across the sea.
A lonely spell to conjure you, but conjure hell is all I do.
Lonely, lonely, lonely, cause my mama told me the dream of love is a two hearted dream. They say for every high (high), there must be a low (low, low, low, low). From every sun ascending, a lonesome moon will grow. Drive my heart, drive my heart into the fire of a burning heart's desire. A lonely spell so you be seen - do you hear me coming in my blue dream?
♫ moonlight shadow

by groove coverage
T
he last that ever she saw him carried away by a moonlight shadow. He passed on worried and warning carried away by a moonlight shadow. Lost in a riddle that Saturday night far away on the other side. He was caught in the middle of a desperate fight and she couldn't find how to push through. Four A.M. in the morning carried away by a moonlight shadow. I watched your vision forming carried away by a moonlight shadow. Star was glowin' in a silvery night far away on the other side.
Will you come to talk to me this night?
But she couldn't find how to push through.
♫ into dust

by mazzy star
S
till falling. Breathless and on again. Inside today, beside me today. Around, broken in two, till you eyes shed into dust. Like two strangers turning into dust, till my hand shook with the way I fear. I could possibly be fading or have something more to gain. I could feel myself growing colder. I could feel myself under your fate, under your fate. It was you, breathless and tall. I could feel my eyes turning into dust and two strangers turning into dust.
♫ i remember

by deadmau5 and kaskade
F
eeling the past moving in, letting a new day begin. Hold to the time that you know. You don't have to move on to let go. Add to the memory you keep. Remember when you fall asleep. Hold to the love that you know. You don't have to give up to let go. Remember turning on the the night and moving through the morning light. Remember how it was with you. Remember how you pulled me through. I remember, I remember, I remember.
♫ possession

by sarah mclachlan
L
isten as the wind blows from across the great divide; voices trapped in yearning, memories trapped in time. The night is my companion and solitude my guide. Would I spend forever here and not be satisfied? And I would be the one to hold you down, kiss you so hard. I'll take your breath away and after, I'd wipe away the tears. Just close your eyes dear. Through this world I've stumbled, so many times betrayed, trying to find an honest word, to find the truth enslaved. Oh, you speak to me in riddles and you speak to me in rhymes.
My body aches to breathe your breath.
Your words keep me alive, and I would be the one to hold you down, kiss you so hard; I'll take your breath away and after, I'd wipe away the tears.
♫ journey of the featherless

by cloud cult
G
ot myself a mission: I'm going to find heaven. I made crepe paper wings, I think they'll carry me a while. I left you a love poem, the best I have written. My favorite words were the ones I couldn't spell. They say that I'm a lunatic. They say that I am full of it. I say that's it's worth dreaming, just for the dream of it. It's all about passion. It's all about perception. Don't call me on my cell phone cos there ain't no reception when I'm gone. I think I'm growing feathers, but I'm not quite sure of it cos I started getting dizzy about a hundred feet up. I made friends with the clouds. I made friends with the birds - if you ask a goose a question, he never shuts up. And honestly, I miss you and I hope that you're missing me cos I could use your lips on me and a little bit of Dramamine. For the moment, I can see way better than I've ever seen. Don't sell my stuff on Ebay cos I might be back before I'm gone. I'm not the kind of man, who's into looking downwards. I've drank my share of pity from the bartender's cup. So many people wondering, "What's the right direction?" As far as I'm concerned, there's only one way: up. And my fingers, they blisters and my eyes, they are bullet holes. My heart's still beating. Guess I'm pretty lucky.
♫ grace under pressure

by elbow
G
race under pressure. Cooling palm across my brow. Eyes of an angel lay me down. We still believe in love, so fuck you.
♫ thump

by bertie blackman
I
n the darkest street far away from here, I can feel your skin stripped and bare, and my only threat is a burning cigarette. A smoking face upon me. Me. So c'mon, yeah, c'mon. It's an illusion. Now go get your own. So c'mon, yeah, c'mon. Insist upon it. Jump up upon it, yeah. Th-u-u-ump. Th-u-u-ump. Now my strength is weak and the sinners lie sleeping, and you're all I want. Come here, come here. And if only the night was forever, I'd fight for you, for you, for you, for you. / Now I see. I'm starting to feel. You're on your way cos I'm always waiting.
♫ fear (hybrid's super collider mix)

by sarah mclachlan
M
orning smiles, like the face of a newborn child: innocent, unknowing. Winter's end, promises of a long lost friend speaks to me of comfort, but I fear. I have nothing to give. I have so much to lose here in this lonely place, tangled up in our embrace. There's nothing I'd like better than to fall. Wind in time rapes the flower trembling on the vine. Nothing yields to shelter it from above. They say temptation will destroy our love. The never ending hunger.
♫ the cave

by mumford and sons
I
t's empty in the valley of your heart. The sun, it rises slowly as you walk away from all the fears and all the faults you've left behind. The harvest left no food for you to eat. You cannibal, you meat-eater, you see, but I have seen the same. I know the shame in your defeat,
but I will hold on hope and I won't let you choke on the noose around your neck. And I'll find strength in pain and I will change my ways.
I'll know my name as it's called again.
♫ goosebumps

by fujiya and miyagi
♫ spelunking

by laura veirs
T
he tiny midnight caravan made its way across the black hills as I watched from a distance. The slow-going glow. Their wandering, you know, made me pine for the lamplight where you lie. If I took you, darling, to the caverns of my heart, would you light the lamp, dear? Would you light the lamp, dear? And see fish without eyes, bats with their heads hanging down towards the ground. Would you still come around? I believe in you, in your honesty and your eyes, even when I'm sloshing in the muck of my demise.
♫ where are you going?

by dave matthews band
W
here are you going with your long face, pulling down? Don't hide away, like an ocean that you can't see but you can smell and the sound of the waves crash down. I am no Superman. I have no reasons for you. I am no hero, oh, that's for sure, but I do know one thing: is where you are is where I belong. I do know where you go is where I want to be. Where are you going? Where do you go? Are you looking for answers to questions under the stars? Well, if along the way you are grown weary, you can rest with me until a brighter day and you're okay.
♫ love

by delerium
E
vie, I feel unloved and lost. I feel no sense of safety. Can there ever be any guarantees in life? Tell me. Oh, tell me. You ask yourself, what do you know? I know I'll always love you.
♫ intensify (blind faith remix)

by way out west
♫ floating

by jape
W
e took our first pill and the music was shit. I said, "Fuck dancing all night." But then that's just what we did. It felt like floating, it felt like floating. Your body was warm when I laid by your side. I said, "I'm glad I have found you and I'm glad we're alive." It feels like floating, it seems like floating. It feels like floating. We laid by a river, we looked at the stars. I said, "How tiny we are, girl, how tiny we are." It feels like floating, it feels like floating. It feels like foating. A lifetime is short and death is so long. I don't believe in no heaven, I just hope that I'm wrong. I hope we're floating, I hope we're floating. There's much in the world I don't understand - it just makes much more sense with my hand in your hand.
♫ bonus: as if by magic

by la roux
E
merging from my world. Imagine living in a box and I won't come out until I've broken all the locks. Slurring all my words until something sticks, but in this smoky universe, my mind keeps playing tricks. And although you're the only home I know, as if by magic thoughts of you are gone. And now I'm keeping my head in the clouds and it's not so tragic, if I don't look down. Submerging from your world and back into my bliss. A day rolled into one is burning on my lips, blurring all your words until they don't exist.
♫ bonus: heart's a mess

by gotye
P
ick apart the pieces of your heart and let me peer inside. Let me in where only your thoughts have been. Let me occupy your mind as you do mine. You have lost too much love to fear, doubt and distrust (it's not enough); you just threw away the key to your heart. You don't get burned (cos nothing gets through). It makes it easier (easier on you), but that much more difficult for me to make you see love ain't fair, so there you are, my love. Your heart's a mess. You won't admit to it. It makes no sense, but I'm desperate to connect and you, you can't live like this.
♫ download all ♫
mediafire | rar | 105.12MBs